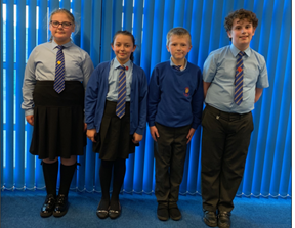 During the first few weeks at school, Mrs Pether interviewed children in year 6 for various roles in school. The children selected for these roles demonstrated that they believe in the ethos of our school. They are great roles models and through their everyday activities model the values and morals that we encourage all our children to have.
Congratulations to Jonathan and Ellie who are our Head Boy and Girl and also to Brook and Kyle who are our Deputy Head Boy and Girl. They were successful in securing these roles because they demonstrated to Mrs Pether their passion for Dean Field School.
"I am a great role model for others in the school and I will help to make sure other children are making the right choices." Ellie, Head Girl.
"I have the confidence and courage to step forward into this role. I also have a lot of empathy and I am looking forward to supporting other children at Dean Field." Jonathan, Head Boy.
As well as our Head Boy/Girl and their deputies, we also have a number of prefects who are assigned to each class in the school. On top of this we have a group of librarians who diligently keep our wonderful library organised each day.