At Dean Field we encourage reading through a wide range of pleasurable activities. One scheme is our 'Share a Bedtime Story'. This runs in classes Nursery – Y6 (title is adapted for our older children so it is more engaging!). This is an open scheme where all children of any ability can freely choose any book to borrow and read at home. When they have finished they can then return this to the box and swap it for another. We welcome any donations to top our boxes up!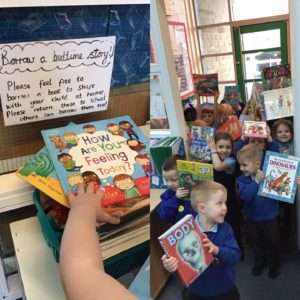 Each class also has a 'Repeated Text Library'. This is a collection of books which has been cleverly devised for each class to repeatedly explore and read throughout their time in that class.
We are also undergoing a new reward scheme for celebrating reading at home…stay tuned in for more!